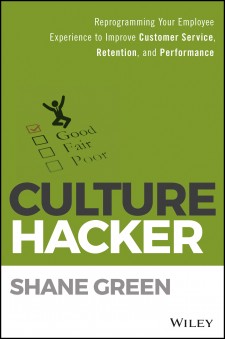 Culture Hacker Will Be Available in Stores on April 24, 2017
Las Vegas, Nevada, March 23, 2017 (Newswire.com) - Shane Green, a global consultant and entrepreneur with two successful companies, has published his first book entitled Culture Hacker: Reprogramming Your Employee Experience to Improve Customer Service, Retention, and Performance. The book, which is published by Wiley, details how company culture and the employee experience affect everything in a business from the customer experience to the bottom line and describes to readers how they can begin to change their own company culture from within.
Presales for Culture Hacker have begun on Amazon and Barnes & Noble, and the book itself will be released April 24, 2017. "I am honored to have this chance to share my thoughts on the importance of the employee experience," Shane Green stated. "Culture hacker is a methodology for improving the employee experience and mind-set at work: those two things will in turn improve your customer experience, your employee retention, and your organizational performance. I look forward to connecting with my readers and encouraging each of them to be a culture hacker."
Green's extensive background that began at The Ritz-Carlton Hotel Company and includes leading Fortune 500s across industries has made him an expert in employee and customer experience. His consultancy's focus on customer-centric organizations led him to document his thoughts and insights on how to improve organizational culture and the experience of employees. As Founder & President of both Shane Green consulting group and SGEi (a training company), he has put these insights to work with dozens of his clients and helped them realize the importance of having a strong cultural foundation. Now, business owners and managers from all over the world can read Green's insights and best practices in his book, Culture Hacker.
About Shane Green: As a catalyst for the modern service economy, Shane Green and his team inspire companies and their people to move beyond the mundane and out of status quo so they want to exceed the expectations of their internal and external customers. Shane Green has worked with brands like the NBA, Westfield, Foot Locker, NetJets Inc., MSC Cruises, W Hotels, Madison Square Gardens, Cisco Systems, and BMW to reprogram their employee mindset and skills to create loyal customers and raving fans. To learn more about Shane Green brand and the culture hacker methodology, contact the team at Connect@ShaneGreen.com.
Source: Shane Green
Share: